FUNdamentals is the feet-ured class taught at SoCal Barefoot Massage Training. Our classes hold a maximum of four students at this location and need a minimum of two students for class to be held. So, grab a friend and sign up for class below so we don't have to reschedule! You can read about our Cancellation Policy here.
About FUNdamentals
This class will teach you how to use your feet to provide a full body deep tissue, myofascial release and trigger point work focused ashiatsu barefoot massage session. This class focuses on techniques applied on posterior aspects of the client's body, as your weight and natural gravitational forces are utilized to effortlessly maintain consistent pressure through your feet. While the work is focused primarily with the client prone, therapists will learn supine work as well.
Fundamentals is the starting point for those wanting to train in the Myofascial Ashiatsu "FasciAshi" style of Barefoot Massage– although it's a "beginner" class, it is definitely not easy. Review your bony landmarks, endangerment sites, and muscle pathways – as well as the anatomical terminology that goes along with all that! Ashiatsu barefoot massage sessions use overhead support bars as well as our proprietary Ashi-Strap to help regulate your pressure, flow and balance while the client lies on a massage table.
California Therapists! If your city/county does not require or if you do not have CAMTC, you must submit the following in order to attend class: transcript from an accredited massage school, certificate of completion, and proof of professional liability insurance.
More questions? Check out ourFAQs!
What will you learn in class?
Theory of myofascial barefoot massage
Structural benefits to every stroke
Pedi-care
Contraindications and indications for barefoot massage
Appropriate biomechanics to save their body and get deep
Safe bar and strap installation
How to use their feet to provide a massage with emphasis on deep tissue, myofascial release and trigger point work
Strokes with modifications to create a customized barefoot massage sequence for clientsHow to launch, market and incorporate barefoot massage into their practice
Additionally, therapists will practice on and receive feedback from:
Other therapists in class
Your instructor
A minimum of 2-3 student clinic clients
In class, you will:

Give 8.5 hours of massage during this class
Receive 4 hours of massage from other students
Spend a total of 2 hours observing the instructor and other LMT's demonstrate the strokes
Tuition: $750
A non-refundable 50% retainer is required to hold your spot in class – the remaining balance is due before class starts. (You can choose to pay the full tuition upfront, or make two payments).
Class is 3 days, and you'll earn 24 Continuing Education credits.(NCBTMB and some select states) 
Please plan your schedule to allow time to be present and punctual for the entire training experience. Partial attendance is not permitted. Any hours missed in class must be made up with the instructor, and will be charged at their hourly rate. No CE's or access to Alumni resources are granted until the class is completed in full.
What are you waiting for? Register for class below!
Fundamentals: October 27-29
Deadline to Register is Thursday October 12, 2023
Fundamentals: December 8-10
Deadline to Register is Thursday November 23, 2023
Want to learn more? Check out Center for Barefoot Massage Tracks
Find your niche and follow the right track for you! Once you've taken our Fundamentals or Fijian course, you can follow these tracks to become more specialized in your practice.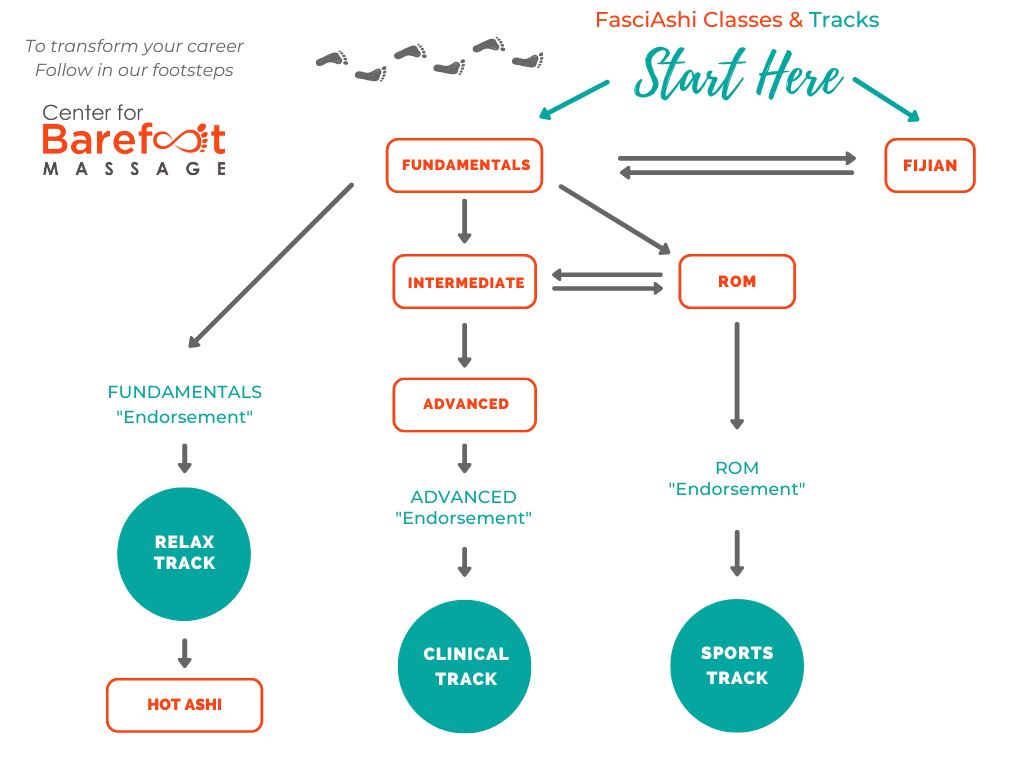 To learn even more, check out Center for Barefoot Massage Fundamentals. For more updates on classes, follow SoCal Barefoot Massage Training on InstagramandFacebook!